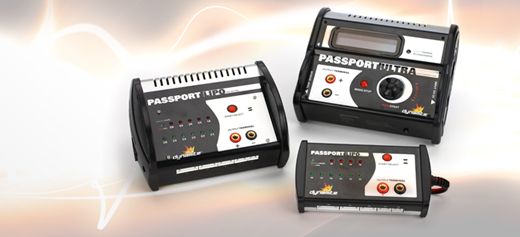 The latest generation of Li-Po battery packs are now being used in practically every application imaginable. One key piece to the Li-Po puzzle is the battery charger. Dynamite has a long history of creating excellent battery chargers and accessories and has had Li-Po-capable chargers for some time. While the performance of Li-Po batteries continues to increase and grow, the needs for charging these batteries continues to change and evolve, and Dynamite is there once again to meet the needs of drivers everywhere with their new Passport Li-Po chargers.

Designed from the ground up with an all-new design, there are three chargers that make up this new lineup—the Passport Li-Po, Passport Li-Po AC/DC and the Passport Ultra. They each share key design features that deliver great charging characteristics yet have their own personalities. We spent some benchtime with each of these to see how they measure up.
Technical Specs
Manufacturer: Dynamite
Product: Passport Li-Po Chargers
Part Number(s):
Passport Li-Po (DYN4065)
Passport Li-Po AC/DC (DYN4066)
Passport Ultra (DYN4064)
Product Type: Multi-Function Battery Charger
Target Audience: Those looking for an all-in-one battery charging/maintenance solution
What's in the box
All three chargers come pretty similarly equipped and ready to get you up and charging in no time. They all have integrated balancing ports that accept many common Li-Po balance connectors. There are adapters for users of Losi, Thunder Power and other balance connectors if your packs use a different configuration. Now this is important because the Passport Li-Po and Passport Li-Po AC/DC will not charge Li-Po packs without the balance plugs plugged in (the Ultra has a non-balance charge option). The balance plugs from a number of different batteries (including those from Reedy, ParkZone, E-flite, SMC and, of course, Dynamite) all plugged directly into the chargers.

Also in the box were various battery connectors. The Passport Li-Po and it's AC/DC brother both included two charge leads, one with a JST connector while the other featured a male Deans Ultra Plug. The Passport Ultra also uses the Ultra Plug charge lead, a Tamiya connector charge lead, an adaptor for receiver packs with both JST and BEC charge leads and a temperature sensor. The Passport Li-Po AC/DC and Passport Ultra feature removable DC charging leads for connecting to a 12V automotive battery or power supply. Taking this a step further, the Passport Ultra also features a removable AC cord. Pretty sweet.

Box-To-Bench Setup
All three chargers are very easy to get set up from the box. Both the Passport Li-Po AC/DC and Passport Ultra feature AC/DC operation, while the standard Passport Li-Po is DC only. Not a problem as I was able to use my Dynamite 12V/10A power supply to provide the juice to the charger. This setup was extremely easy thanks to the installed banana plugs on the ends of the power leads. I was quite relieved that I wouldn't need to break out the soldering iron and cut some jumbo alligator clips off of the leads. To whoever made that call, thank you.

I started working with the Passport Li-Po (DC only version) first. There are a few things I love about this charger and I am going to get those out of the way first. The first thing is the size—it's absolutely teeny tiny! Second is that if you're ever at the track or field and forget how to change the settings, the instructions are right on the back of the charger. How intuitive is that? I plugged the banana jacks into my power supply and was ready to begin setting it up. I also plugged the Passport Li-Po and Passport Ultra into the electric outlets and dove into setting them up and getting ready to charge them.

Programming
The one thing that pretty much all Dynamite chargers have in common is their tendency to be really user-friendly and easy to program. While these three chargers feature advanced programming and charging capabilities, all three Passport chargers take just moments to set up.

Both the Passport Li-Po and the Passport Li-Po AC/DC are programmed in a virtually identical way. With the battery disconnected you hold the Start/Select button down for a few seconds and the charger switches from Li-Po to Li-Fe-Po (Lithium Iron Phosphate/A123 Cells). Pressing and releasing the Start/Select button changes the charge rate. It's really easy and intuitive. The Passport Li-Po AC/DC can charge at a higher 5A rate but beyond that these two chargers are virtually identical.

The Passport Ultra is a different animal by design and, as such, programs differently. When I am testing a new charger, my gauge for how user-friendly it is comes down to one factor—how far into the programming can I get before I need to grab the manual. Well I am here to tell you that I was able to set up Li-Po, Ni-MH and Ni-CD profiles successfully without reading the manual. Now don't read that as I didn't read the manual, because I did before I ever actually charged a battery on the Ultra. However, I was very pleased that it was that easy and intuitive to use (so I wouldn't have to read the manual 54 times and always keep it with me when charging).
Testing
I tested each of these chargers using a variety of 2- and 3-cell Li-Po packs. Since the Passport Ultra can also charge and discharge Ni-MH and Ni-CD packs, I decided to use it to try to revive my 4-cell 1/12-scale packs (I'm still running a T-bar car so 1S Li-Po isn't an option yet). When charging Li-Po packs, I also made sure to use a Li-Po sack for safety reasons. I also used the temperature sensor with my 4-cell packs, since they had been sitting since last season and I wanted to make sure they weren't overcharged.

I am pleased to report that every single pack I threw at the Passport chargers was charged successfully. Neither the Passport AC/DC nor the Passport Ultra got hot during charging, which can happen at times with an AC/DC charger due to the integrated power supply. All of my packs felt as good in my cars, trucks and planes when I ran them, although I will admit I haven't run the 4-cell packs, simply cycled them. In fact, I couldn't tell a difference between the charge quality in-vehicle with the Passport chargers, when I compared the performance I got when I used chargers that cost two and three times as much. Overall these are three very well put-together pieces of hardware
Final Thoughts
A battery charger is one of those things we all take for granted. It's not something sexy like a new radio, the latest chassis or some outrageous engine. Nevertheless it's just as important to the overall performance and quality of your batteries to use a quality charger. That being said, you don't need to go out and break the bank to get your hands on a quality charger that will do the job and last. This is where the Dynamite Passport chargers come into play and they fit their role quite well. They provide a solid charge, the Passport Ultra and Passport Li-Po AC/DC don't require an external power supply and the Passport Li-Po DC version can be had for under 50 bucks! Now as I mentioned earlier, you'll need to use some adapters if you have Thunder Power, Losi or another manufacturer's packs. There are also charge adapters for other connector types such as EC3 and EC5 connectors. I do somewhat wish these were included in the box, but I also understand that would have raised the pricing and, as I found in my research, a majority of the batteries out there will work with the onboard balance plugs. I also commend Dynamite for including Deans Ultra Plugs as standard equipment on all three chargers. The Ultra Plug is still the most commonly used aftermarket connector and it's good to see this as an included item.

The Dynamite Passport chargers have earned a spot on my bench and in my pit area thanks to their overall design, ease of use, but most importantly, their performance. Are there things I'd change about them? Sure, nothing is perfect. I do wish the Passport Ultra had a higher discharge rate; I'd prefer the display being at a different angle; it seems like the charger takes a longer time to reach its full charge and discharge rates—but those are minor quirks. Honestly since going almost exclusively Li-Po, I can't remember the last time I discharged a Ni-MH pack before now. You could spend more money but what would be the point? You simply can't beat the value or performance that the Dynamite Passport Li-Po chargers bring to the table.