RC boats are more popular than ever before and for many great reasons. From the fit and finish to the outstanding performance, the quality of today's RTRs are better than ever. While RTRs don't require any significant assembly before running them for the first time, but there are several steps you'll need to take before you can hit the water.
Lube the Prop or Flex Shaft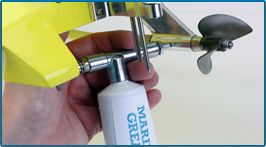 Before you run your boat for the first time, you should remove the main prop shaft and lube it with a generous amount of marine grease. There are several benefits to taking this relatively easy step. First of all, the marine grease helps to seal the flex shaft tube better, preventing water from seeping into the hull. Secondly, the marine lube helps to reduce friction, as friction heat is the #1 cause of breakdown in RC boats. Finally, as lubing the flex shaft will reduce friction, it will also reduce wear and tear and extend the overall life of your parts. You should always lube the flex shaft and other moving parts if you're going to be storing the boat for an extended period of time. The Pro Boat® Grease Gun makes getting to those hard-to-reach spots much easier with a lot less mess. Flex shafts tend to shorten under load, so don't forget to leave a few millimeters of a gap for contraction.
Properly Charge Your Batteries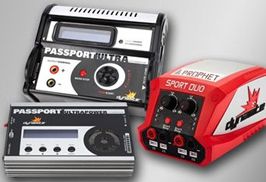 Whether you're running an electric boat that uses a main battery pack or a fuel-powered boat that uses a rechargeable receiver pack, you'll need to charge your batteries up before the first use. Many RTRs include a basic wall charger that will charge your battery up in anywhere from 60minutes to a few hours. If you're using a NiMH battery pack, it should be slightly warm to the touch when it is completely charged. You can also purchase a separate battery charger that can charge your batteries up more quickly, charge more than one battery at a time or even charge the latest generation of Li-Po and LiFE batteries. For more information on these battery chargers, you can check out our battery charger basics article found here.
Configure Your Speed Control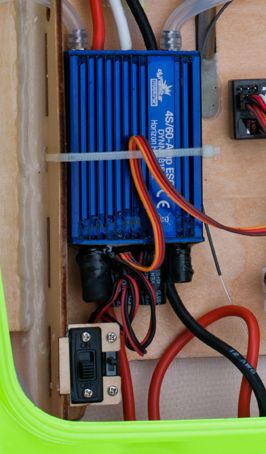 Many of the latest Pro Boat models include a brushless motor system and programmable electronic speed control, or ESC. The programming allows you to alter the cutoff voltage of the ESC to protect your batteries from over-discharging.  If you are going to use Ni-MH batteries, then there's nothing you'll need to do. If, however, you're going to use any of the latest generation of high-performance Li-Po battery packs, you'll need to program the ESC with the proper profile for Li-Po batteries. There are two different ways you can set up and configure your ESC, thanks to the fact that Pro Boat makes this a simple process. There are two different programming methods depending on your ESC. One is a simple toggle switch that allows you to quickly switch from a NiMH to Li-Po cutoff. The other option is to program your ESC through the use of their ESC Programming Module. This module will also make it possible for you to activate braking, set cutoff preferences and choose throttle curves. Even if you're not using Li-Po batteries, this is still a helpful tool to have at your disposal.


Seal Off The Canopy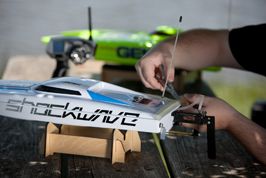 Water is the enemy, point blank. One of the easiest ways that water can enter into the hull is if the canopy is not sealed properly. While the current generation of Pro Boat models feature sealed inner liners to keep everything dry, you still have the ability to further protect your boat's internals from the elements. The Pro Boat  clear tape is a wonderfully useful, flexible tape that you can use to seal off the area between the canopy and the hull itself. This tape is flexible enough to stretch around curves and corners and adheres amazingly well. It is also relatively clear, so it won't detract from the trim scheme of your boat.
Range-Check Your Boat

A common technique used with airplanes can prevent you from having to take a swim or send out the Retrieval Decoy down the road, and that is to perform a range check on your boat. The easiest way to perform a range check is to have a friend take your boat and walk away from you, stopping every 25-to-50paces, and having you verify that you still have full control over the boat. Be careful that you hold the boat towards the bow if you are the one holding it, or don't accidently bump the throttle if you're holding the transmitter while performing a range check. Accidents can happen, but the more cognizant of this you are, the better you will be.

RC Boating can be a fun, fast and enjoyable way to get your RC fix. While RTRs have made it even easier than ever to get involved in the hobby of RC boating, there are still some minor things you'll need to check before running. They say an ounce of prevention is worth a pound of cure, and being proactive about taking care of your boat will extend its life and your enjoyment tremendously. A few extra minutes onshore will pay off in hours of enjoyment on the water.