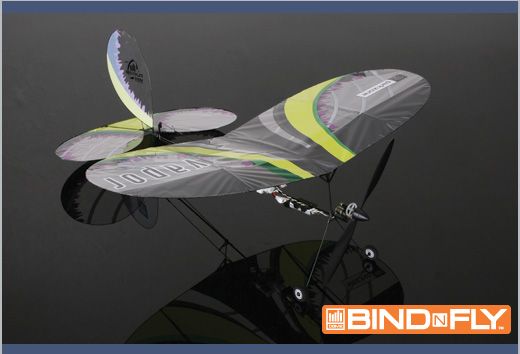 An exciting innovation from Horizon Hobby is changing the way people experience RC flight. New models offered in Ready-To-Fly form have long been desired by experienced flyers, but they have been disappointed with the need to purchase the additional transmitters included in the RTF boxes. Plug-N-Play was created to address this need, but Horizon's new Bind-N-Fly offers a completion level that is even more convenient. This revolutionary new way to deliver Spektrum DSM2 technology allows pilots to use a compatible transmitter with a growing number of electric aircraft from Horizon. The new era in RC flight makes its debut with ParkZone's Vapor, a member of the unique Etomic series of ultra-micro aircraft.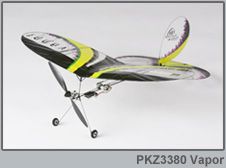 Most modelers develop a unique comfort level with their own radios, and are not interested in purchasing another transmitter just to fly a specific plane. That's why Bind-N-Fly helps take them to an entirely different level of RC flight. It also offers consumers everything they want and need in a plane, without the inclusion of unnecessary components. All they have to do is bind their DSM2 transmitters to the ultra micro aircraft (including the one utilized by E-flite's remarkably popular Blade CX2) and the fun begins. In no time at all, modelers will be ready to take to their basements, living rooms or almost anywhere else to enjoy superb flight with the ultra-slow Vapor.
Except for the transmitters, Bind-N-Fly products are packaged with everything else needed to get them in the air, including a flight battery and charger (as well as AA batteries for the charger). An integrated unit that houses the receiver, ESC and servos makes this ground-breaking completion level possible. These stylish aircraft make for fun collectibles and, since their prices do not include transmitters, are more affordably priced than the ready-to-fly versions that are also available.
Opening up new possibilities for modelers everywhere by allowing owners of DSM2 transmitters to have aircraft flying in no time, Bind-N-Fly is truly the future of RC flight.


*Multiple Patents Pending