Over the last 18 years, there has been a lot of history between Horizon and Carden Aircraft...and it's all been good. This relationship has resulted in a partnership association between Hangar 9 and Carden Aircraft Designs. Both Mike McConville and I love to design, engineer and fly R/C models. For more than 12 years, Mike's friendship and feedback on our products (as a world-class aerobatic champion) has helped guide the Carden Aircraft line of kits. Although Mike and I think a lot alike when it comes to models, other common traits such as honesty, integrity and mutual respect for each other's abilities and shortcomings should be included in the mix. The critical support of the entire Hangar 9 team was a most pleasant surprise. These easy-to-work-with professionals really make this partnership a pleasure. Now everyone can enjoy innovative Carden designs, unique Carden construction and superb flight performance---all wrapped up into a professional quality ARF. In my opinion, manufacturing at the best factory with hobby shop or mail order availability and great customer service is a winning combination.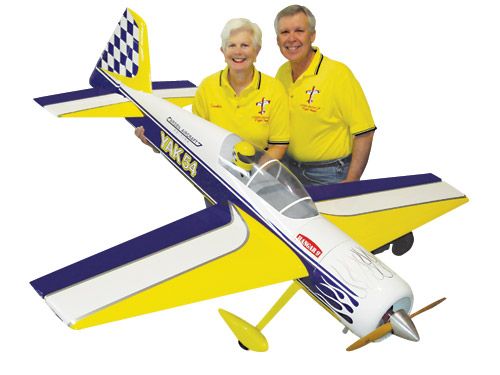 Top designers and competitors like Mike, and professional builders like Brian Hueffmeier, have long recognized that the Carden approach to aerobatic designs and construction results in models that compete well at the highest levels. For example, over the last 7 Tournament of Champions competitions in Las Vegas, more Carden Aircraft models have competed (16 total) than models by any other company. Most recently, Carden designs have experienced a first place in the Unlimited Class at the 2007 IMAC Nats, 2007 Canadian Nats and a top five finish in the Invitational class at the 2007 Tucson Aerobatic Shootout.
One of our goals was to be able to provide the same level of overall quality to all modelers in a smaller size ARF product. The first task was to develop a CAD set of plans, paying close attention to a spot-on reduction in size without compromising durability and a low flying weight. The result is a competition-ready 50cc ARF that is the same size as the Carden 30% models but at a finished dry weight of only 17 pounds. Just wait until you experience the flight performance!
There were a lot of smiles during the flight testing of the 89" Yak. The first flight tests were done at the Carden Aircraft test site. There were a number of firsts, including the arrival of "TrixieMae" the stray Pit Bull. After a few successful test flights, Mike and I were sitting on the flight line enjoying some wonderful weather when the Trixter showed up. She immediately bonded with us and it was clear she was a Carden kind of dog. One big lesson that day was that Pit Bulls can jump really high...we almost lost the prototype on final approach when Trixie nearly plucked it out of the air! Trixie's extreme speed and high jumping abilities are now directed toward frizbees!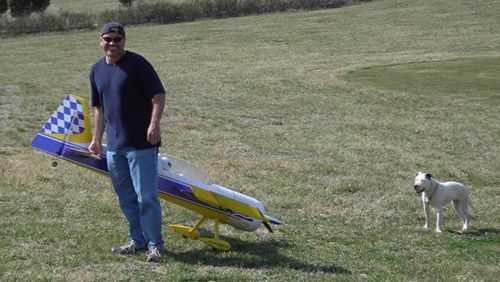 Another first we'll never forget was a very low fly over from something other than the normal C-130 traffic that treats our factory to frequent free "air shows". It was a V-22 Osprey, low and slow. This was the second day for our guest Trixie who showed great interest but no prey drive toward the Osprey. Obviously, she realized jumping to tree level height was not possible. What an amazing sound this military machine made.
We built the second prototype with a few minor upgrades. We made several very successful test flights in Champaign, Illinois to put the final touches on the project. The rest is history. We hope you are as pleased with our collaborative effort on this Yak. I hope that the future will bring even more surprises!