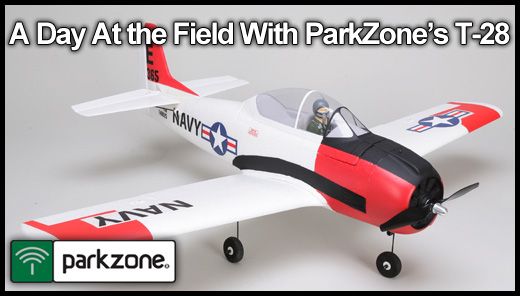 After WWII, at the beginning of the Cold War, the T-28 Trojan became the number-one trainer for up-and- coming jet jockeys. Now the folks at ParkZone have introduced a ready-to-fly park flyer T-28 with a 480 Brushless outrunner motor, and E-flite 25-amp speed control. The combination lifts RTF park flyer performance to another level. It is a flying machine of the first order that looks great, too.

A while back a T-28 mysteriously showed up at my desk in the PNP (Plug-N-Play) form. The PNP differs from the RTF only in that it requires you to supply your own battery, charger transmitter and receiver. For the radio I opted to use my trusty DX7 transmitter and AR6100 receiver, but any 4-channel aircraft system would've worked just as well. For the battery pack I used ParkZone's 1800mAh Li-Po, which just happens to be the same pack included with the RTF version.
When an airplane is available to fly around Horizon Hobby, I can guarantee that there is no shortage of people ready to fly it. This looked like a great opportunity for me to try out one of our new products and I was sure the guys at the field would appreciate the chance to see it. But before I talk about that, let's first review some the T-28's features.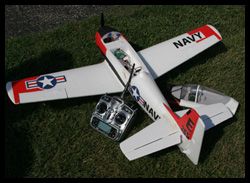 It is not an ordinary park flyer by any means. It looks very much like the full-size Trojan. The 44" wingspan and 36" length are somewhat larger than the average park flyer, but it still fits in the family car with no problem. All-up weight, ready to fly is about 30 ounces. The recommended 1800mAh LiPo battery (included with RTF version) keeps the weight down and results in exceptional aerobatics from a park flyer. Construction is built up from durable Z-foam, with paint and decal markings already in place.
As has already been pointed out, there are two forms of the T-28 available: a Ready-To-Fly (RTF) and a Plug-N-Play version (PNP). The RTF is, as the name implies, complete with radio installed and includes a battery, charger, motor and speed control. Charging the battery is all that is required to get this one in the air. The PNP is identical except that, as mentioned earlier, you must supply your own 4-channel (or more) aircraft system, an 1800–2100mAh LiPo battery and charger. Assembly of the PNP is very quick and does not require a building board or any special tools. You can assemble it while watching TV on the couch and should be finished in less than an hour.

The basic idea of a park flyer is to have a nice-looking model that assembles quickly, is durable and flies well. This model exceeds these expectations in every category. The nice- looking part was easy. When the guys at the field saw it, they all commented on how great it looks. A couple had even flown a full-size T-28 in their younger days.
The T-28 does not require very advanced pilot skills and can be flown by just about anyone who has soloed their trainer a couple of times. Even so, its durable construction allows for some mishaps without significant damage. The tri-cycle landing gear makes for excellent takeoffs without any ground handling problems.
The motor is totally hidden in the cowling behind the dummy radial engine which really accentuates the scale looks. The brushless 480 outrunner is so quiet it will amaze you. Since it is direct drive to the prop, there is no gear reduction unit to make noise common to so many park flyers. Outrunner motors turn big propellers so they look very scale- like sitting on the ground. The big prop is also a contributing factor to the performance of this model.
Between flights the battery is very easy to swap out, thanks to the removable top hatch. Magnets hold the hatch in place so no tools are required. The hatch also has a painted pilot figure mounted in the canopy, ready to go.

I have to admit that the T-28 Trojan really surprised me, beginning with the first takeoff and climb out. It scoots along at full throttle, but you can reduce power and cruise around the field doing lazy maneuvers like a full-scale airplane. Another surprise was how well it handled the wind. We had about a 10-mph breeze blowing during our flying session and the Trojan handled it with no problem at all. If you have to wait for calm weather to fly your park flyer, then you won't get to fly much.
I don't think most of those watching were expecting me to fly an aerobatic routine, and they were amazed to see slow rolls stretch from one end of the field to the other, as well as inside and outside loops followed by low inverted passes. It flies much better than anyone expects. The authentic color scheme really shows up in the sky and is very easy to see while you are doing some wild aerobatics. Landings result in beautiful touchdowns with lots of people saying "ohhhhh." This thing is fun in capital letters and people really love the model.
In sum, the ParkZone T-28 is a great model to keep with you anytime you think you might have the chance to go to either a park or a club field. But, of course, it is all about having fun with your RC model, and this airplane fulfills that mission beautifully. Take a closer look at your local hobby shop and give this one some consideration. I think you will like it.