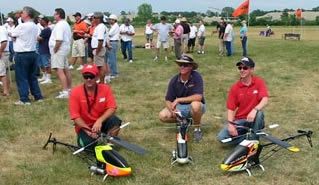 Team JR Members pose with their helis. This class always puts on a stellar performance, and this year was no different.




Aerobatic flying events are the absolute coolest. Each and every time a new participant goes out, they are always trying to outdo the competition. This constant raising of the bar and one-upmanship is not only thrilling for the competitors but for the fans as well. The International Extreme Flight Championship brings the best and most talented aerobatic pilots from around the world together to see exactly who the top dog is; who is the "Most Extreme." This year's XFC, held at WACO Field in Troy, Ohio hosted pilots from Mexico, the United Kingdom, Germany, Ireland and, of course, the USA—giving this event an international flair.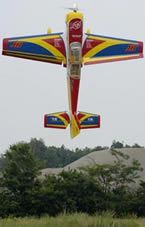 As quick as Andrew was maneuvering we were lucky to get a shot of his QuiQue Somenzini designed Yak.
The Competition
Elimination rounds started on Friday and continued through Saturday. One round of flights consisted of known maneuvers, where pilots had to incorporate a number of assigned tricks into their performance. The second round was more of a freestyle format, where judges didn't know what maneuvers to expect. To add even more excitement to the event, an awesome sound system was set up playing a wide variety of music for pilots to try to synchronize their flying to. Oh, and this event wasn't just for the airplane guys, no, no, no. The helicopter guys also joined in to put on one heck of a show for all who were in attendance.
The Winners
When all the smoke had cleared (and there was plenty of smoke from the aerobatic planes), Team JR members wound up placing very well in both the airplane and helicopter categories. On fire was the only way to describe Andrew Jesky all weekend, and in the finals he put on an absolute clinic to take home top honors in the airplane category. Curtis Youngblood was just as exhilarating with his heli, taking the overall win in that category, completing the Team JR sweep of the event. Scott Gray pulled out some awesome maneuvers as well to take home third overall in the helicopter category.
The Winning Setups
Scott Gray:

JR Vibe 90 (prototype helicopter)

JR 10X radio

JR G7000T Gyro

JR DS8311 Servos

SGP Dual Voltage Regulator and Kokam 3200mAh Li-Po battery
---



Andrew Jesky:

JR PCMX10 Transmitter

QuiQue Somenzini 102-inch Yak 54 ARF

2 JR 8611 servos for each aileron; 2 JR 8611's on the rudder; 1 JR 8611 on each elevator

955 Receiver
---
Curtis Youngblood:

JR Vibe

JR 8311 servos

JR PCM 10X

Radix Blades (CJ Youngblood)

OS 91 CSPEC Engine

Youngblood Performance—30% fuel (Wildcat fuel)

Muscle Pipe muffler (CJ Youngblood)