Sportwerks introduces these great new option parts for the Mayhem buggy. Look for more parts in the coming months.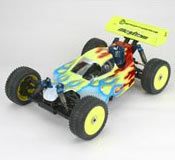 Agitator Body (SWK2710)
This low slung body features aggressive styling that's custom tailored for the 1/8 Mayhem 4WD off-road buggy. This body comes unpainted and includes window masks.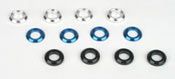 Aluminum Camber Shim Set (SWK9138)
These camber shims allow for precise front camber settings on your Mayhem buggy. Each bag includes (4) 1mm, 1.5mm, and 2mm shims that are color coded for easy identification.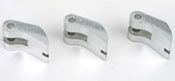 Aluminum Clutch Shoes (SWK9198)
Aluminum Clutch Shoes - Light (SWK9199)
These 3-shoe clutch sets are designed to last longer than most, but not cost more. They're compatible with most 1/8 buggies and monster trucks and include shims and washers. Available in standard and lightened versions.
5mm Front Shock Tower (SWK9143)
5mm Rear Shock Tower (SWK9163)

| | |
| --- | --- |
| | |
| Front | Rear |
These beefy new aluminum shock towers for the Mayhem add strength and have been strategically scalloped to reduce weight as well as provide exceptional strength. The front shock tower includes extra shock mounting positions so racers have more tuning options.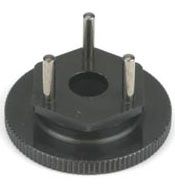 Light Flywheel - Hard Anodized (SWK9191)
This new hard-anodized flywheel will fit most .21 and .26engines. The new lightweight design yields faster acceleration allowing you to get an edge on the competition.