Have you always wanted to get started in radio control flying, but were afraid it was too difficult or too expensive? Well the people at HobbyZone® have just solved both problems with the new Firebird Scout™, an easy-to-use beginner plane that can have you in the air and flying successfully on your first try!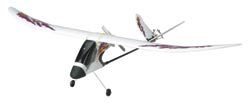 HobbyZone Firebird Scout (HBZ4600)
The Firebird Scout is completely ready to fly. Unlike some planes that are labeled ready- to- fly but leave you having to buy or build a bunch of stuff first, this plane comes with literally everything you need to get started in one box. It even includes the battery, charger, and transmitter batteries. This is a complete package that you can take from the hobby store to the flying field in a matter of minutes.
The key to the Firebird Scout's first-time success is its Smart-Trak™ flight control software that's built into the plane and helps control the feel and maneuverability. In Standard Mode, the Smart-Trak program calculates and adjusts the plane's handling so that new pilots don't overcompensate with the controls, potentially causing them to get into an unrecoverable situation. That way, even brand new pilots can be assured of a great flight with little risk of a crash. Once you've got the hang of the plane in Standard Mode, you can switch to Expert mode, which unlocks the control characteristics, allowing for tighter turns and more responsive handling. The plane actually grows with your experience, so you can continue to develop your RC flying abilities.
Another great feature of the Firebird Scout is that with the included 2-channel transmitter you only have to master throttle and steering controls. This is especially helpful for those just starting out, since the elevation and pitch are controlled by the software. Smart-Trak adjusts the plane's handling by analyzing the throttle and steering inputs from the transmitter, making it easier than ever to get started.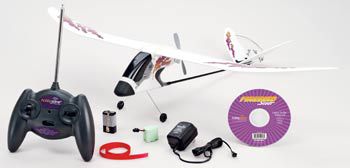 The Scout comes with everything you see here.
We found it very easy to get the plane into the air, and mastering the controls really was a breeze. But don't let the ease of operation fool you. The Firebird Scout is built to fly just like a bigger electric plane, and it provides tons of fun. The plane even comes with a video CD that runs you through the basics of RC flight. This is perfect for beginners, since they can see how the plane is set up, as well as how the controls operate, before they begin. Our only recommendation would be to pick up an extra battery or two for the plane, and possibly the optional DC peak charger that lets you charge the battery in your car on the way to the flying field. You'll be having such a great time learning how to fly that you'll definitely want to keep going.
The Firebird Scout is a perfect beginner plane that is an absolute blast to fly. If you've never flown before, you can easily get started in a matter of minutes, and the Expert Mode provides a great deal of excitement once you've got the hang of things. We were really impressed with how easy it was to control, and how much fun it was at the same time. Plus, since HobbyZone includes everything you need in one box, you won't have to run back to the store for batteries. For beginners, this is the perfect way to teach yourself to fly. And if you're already an experienced RC pilot looking to help your friends get into the hobby, this is the plane that can do it. They'll love its simplicity, and you'll have a great time flying with them.your friends get into the hobby, this is the plane that can do it. They'll love it for its ease of use, and you'll have a great time flying with them.