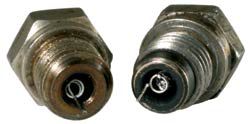 Change your glow plug if you notice mangled elements or particles attached to it.
Glow plugs are common to all "glow" engines and are used with methanol-based fuels. The glow plug itself is made up of a steel "plug" with a platinum wound wire element that when inserted into the head of the engine forms the uppermost portion of the combustion chamber. In operation, there is a catalytic reaction between the alcohol and the platinum element that, when combined with the right compression, causes the alcohol to burn. We initially attached a 0.5-1.2V battery to the glow plug to cause it to glow, and remove this battery once the engine is running and the element continues to glow through the catalytic reaction.
You will hear of glow plugs being referred to as "hot" or "cold" plugs. Both of these terms refer to the heat range of a glow plug, and it is easiest to notice the difference at an idle. In general, the "hotter" the plug, the richer the mixture can be at idle and the engine will continue to operate. The "colder" the plug, the mixture will need to be leaned out in order to operate properly.
Assessing the Condition of Your Glow Plug
The glow plugs on the market today are designed to provide good service to the user and may last a long time or a short time, all dependent upon the way you choose to operate your engine.
Physical indications that you might need to change the glow plug are:
a) Twisted or mangled glow plug element. (This is usually caused by too high a compression ratio.)
b) Small "bumps" are attached to the glow plug element (This will generally be most noticeable during the break-in process. These are actually tiny pieces of aluminum that have attached to the element and these will severely hinder the operation of the glow plug.)
c) The glow plug element is no longer shiny but is dull, almost a white powder color. (This just comes with age and is a by product of the catalytic reaction. The shinier the wire, the better the catalytic reaction can be.)
Operating indications that you need to change your glow plug are:
a) The glow element will not light with a charged glow igniter. (This indicates that there is a physical short or breakage in the element wire itself)
b) Glow plug lights but the engine will not stay running once the battery is disconnected. (This is usually an indication if the microscopic particles we discussed earlier)
c) Glow plug lights, engine runs but there is a perceptible loss of rpm at full throttle when the battery is disconnected. (This is a typical indication that the white powder residue is building to the point that the catalytic reaction of the glow plug is no longer anywhere close to being optimum.)